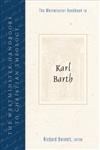 I am proud to let you know that The Westminster Handbook to Karl Barth has just been published! It is a fantastic work and a great introduction to Karl Barth's Life and Theology. As Westminster/John Knox Press introduces the work:
Featuring essays from renowned scholars, this volume in the Westminster Handbooks to Christian Theology series provides an insightful and comprehensive overview of the theology of Karl Barth (1886-1968). This volume offers concise descriptions of Barth's key terms and concepts, while also identifying the intricate connections within Barth's theological vocabulary. Masterfully compiled and edited, this volume features the largest team of Barth scholars ever gathered to interpret Barth's theology. The result is a splendid introduction to the most influential theologian of the modern era.
Contributors include Clifford B. Anderson, Michael Beintker, Eberhard Busch, Timothy Gorringe, Garrett Green, Kevin Hector, I. John Hesselink, George Hunsinger, J. Christine Janowski, Paul Dafydd Jones, Joseph L. Mangina, Bruce L. McCormack, Daniel L. Migliore, Paul D. Molnar, Adam Neder, Amy Plantinga Pauw, Gerhard Sauter, Katherine Sonderegger, John Webster, and many others (INCLUDING ME!!!)
As many of you know I wrote my PhD dissertation on the theology of Karl Barth, specifically "The Relationship between Revelation and Religion in the Theology of Karl Barth and His Critics." I have published various excerpts and adaptations of the dissertation which was why I was asked to contribute to this work. I am honored, humbled and delighted to have worked with the editor Richard Burnette from Erskine Seminary in South Carolina, a friend and colleague who I met while he was doing his PhD at Princeton Seminary years ago. And to be included with some of the greatest theologians of our time, I am grateful. Other than Jesus Christ himself, and the great witnesses of Holy Scriputre, no theologian has influenced me more as a pastor, professor or Christian than Karl Barth (although Dietrich Bonhoeffer comes very close and I usually mention them in the same breath). If you are interested to explore more of Karl Barth's life and thought, whether as a newcomer who needs an introduction or as a theological master or anything in between, this is a great book to go further and deeper. Your life and thinking about God will be enriched. I promise!!!
Would love to hear from anyone who engages the text of wants to know more...