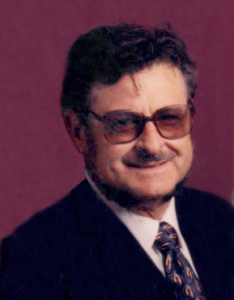 My Dad went to be with Jesus this past Sunday. He went peacefully as He hoped and prayed, and so did we. Just a little more than a year since Mom went to be with Jesus as well. They are together for eternity and for that I am grateful. My last conversation with my Dad was during the Green Bay Packers game (when they took care of the New England Patriots) and he was in great spirits...good humor and it was a great talk. Caroline and I had gone back to visit him just barely a month ago and had a great visit, although he was definitely weaker and unable to be the active man he had been for all his 85 years until recent months.
As our family will gather to remember and give thanks with other friends and family, I have been asked to eulogize my father, as I have been asked to do for my mother, my mother-in-law and my father-in-law, as well as my grandmother and grandfather. So I offer this to those who read my blog:
Read from 2 Corinthians 5:1-10 and Hebrews 12:1-3 (read from his King James Version)
I know Dad is now part of the great cloud of witnesses, those who have gone on before us in the Christian Faith…known and unknown to us in this life. He is at home with the Lord although being absent from the earth. And He is now at home with Mom, Grandma and Grandpa. Dad was a true member of what Tom Brokaw called "The Greatest Generation". Dad had a tough childhood but he overcame it. Dad was an overcomer. He was in one sense a true self-made man in that way, but he was always grateful for those who contributed to the man he was and became, especially Mom. Dad loved Mom…they really were inseparable. Dad loved us boys. Dad loved family, loved God and loved life. He sought to live the Three Great Christian Virtues of Faith, Hope and Love. As the Apostle Paul commends us to "fight the good fight and run the good race" Dad did. He lived a good and full life and now lives life eternal promised to him by Jesus.
How does someone like me summarize his life...I believe our lives can best be summarized by the most meaningful relationships that God graces us with in this life. These relationships are at the heart of any person's legacy are they not? What were Dad's most significant and meaningful relationships?
1) His Relationship with Jesus his whole life. (Faith, Hope and Love)
2) His Relationship with Mom, his wife for over 65 years. (He and Mom modeled what a Great Marriage looked like…a love and friendship deeply rooted in their commitment to each other)
3) His Relationship with my Brother Bruce and me, as his sons.
4) His Relationship with my wife Caroline and Bruce's long time girlfriend Julia.
5) His Relationship with our children Mark and Claire and Julia's children Brian and Stacy.
6) His Relationships with so many lifelong friends gathered here today as well as those who could not be here.
I learned to love life from Dad in a very different way than Mom. Dad had many passions which I share and honestly many of which I did not. Dad loved fishing and hunting as sport. I loved football, basketball and baseball. Dad loved to garden and farm. I could manage to kill almost any kind of plant, including a cactus. I have many memories of Dad. I have fond memories of watching cartoons with Dad on Saturday mornings and Gunsmoke on Saturday nights. I also have a powerful memory of him taking me ice fishing on one of the coldest, windiest days on Big Green Lake and nearly freezing to death, which we remembered together and had some laughs during our last visit home. Dad had many loves and passions in life beyond the loving relationships above. SO what did I learn from my Dad of 55+ years?
1) I learned that the Christian Faith mattered. Even when I turned from it for a time. He regularly did the family prayers at the table, always in King James English, even when we visited a little over a month ago. Through the years, he and mom together served Christ and the church in many capacties back in Milwaukee and Brookfield.
2) I learned my love and passion for music, as from no age, country and gospel music filled the Burton family home. We visited the Grand Ole Opry several times. And I know it drove him crazy when Bruce and I converted and started playing that old time rock-in-roll and playing it loud. And he let us know. I fondly remember watching The Johnny Cash show with him. Our love of Johnny Cash and many of the old country music greats led to many great conversations. However, I do not so fondly remember the times watching The Hee Haw Show and even less when we visited recently and Caroline and I had to watch, more like subjected to like torture, his The Polka Shows which he watched during the last few years.
3) I learned I was not called or gifted by God to be a carpenter and go into the family business. That would be my brother's calling, but not mine. Yet, I can still drive around metropolitan Milwaukee and look at houses my Dad built, many of which my brother and I helped build, and have a lot of pride. There are so many stories that could be told by me, or my brother or they many, many people who worked with him on a multitude of job sites through the years. I was always grateful for the opportunity, but this was not to be the work that God had put me on the planet to do. Yet his work as a carpenter was always done in the pursuit of excellent. "A job worth doing is worth doing well!" He and Mom designed and built every one of our family homes in Milwaukee, Brookfield and finally in Grand Marsh…each one a true "work of art" for which I know he was proud. But I was to be a carpenter's son not a carpenter.
4) I learned to love to travel (even though I had car sickness when I was young) and see the world. We visited almost every state in the continental USA growing up. The trips back and forth to Florida winter in and winter out when we were kids created great memories…Dad did the driving while Mom kept him right. I always wished Mom and Dad could have seen the bigger world that they gave me the love to go and see growing up.
5) I learned to love food---eating it and cooking it. My mom was an incredible cook and I learned a lot watching her cook, but unlike other homes, my dad was a great cook too and I learned a lot from him as well…especially good barbeque, but also great pizza and oh yes his breakfasts of pancakes.
His memories and His passions...His relationships and His Legacy. Things learned. Things passed on. So thanks God for Dad. Thanks God for everything he means to me and each one gathered here as well as those who could not. Finally, as one adopted shortly after birth and shown love from the beginning (although he did drop the overhead garage door on my leg whien I was very, very young) by always providing for us…thank you to you and mom for adopting me and Bruce and loving us as your own. You and mom once said, "We had many children we could have adopted but we chose you. We love you as our own." That taught me more than you know...It has deep implications for me as a child of God in Jesus Christ as for the first time in my life I no longer have a Father except God my Heavenly Father. But I am still a Dad for which I am thankful today. Dad, Thanks for everything.
FYI Here is the obituary placed by the funeral home.
http://www.roseberrys.com/obituary/denver-c-burton/