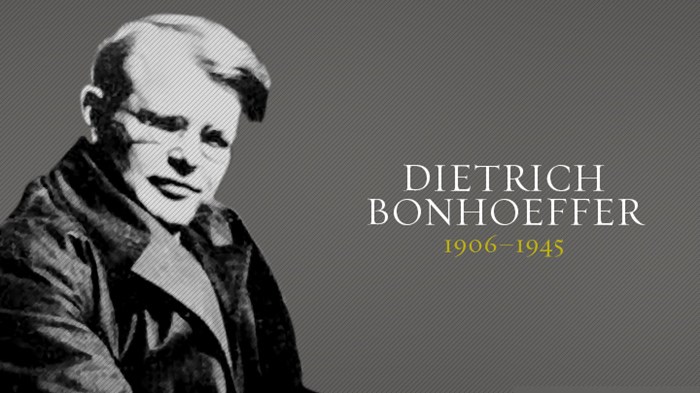 Dietrich Bonhoeffer was born on this date (February 4th) in 1906. He remains one of the most significant Christians in contemporary times. Although he was martyred by the Nazi regime by the direct orders of Adolf Hitler nearly 75 years ago, Bonhoeffer remains a person of great interest to many.
In these days, why Bonhoeffer? May I suggest a few thoughts...
1.) His radical commitment to a Christ-centered faith as expressed in his lectures CHRIST AT THE CENTER.
2.) His radical commitment to Christian Discipleship as expressed in his great work THE COST OF DISCIPLESHIP.
3.) His radical commitment to the Christian Church as expressed in his great work LIFE TOGETHER.
4.) His radical commitment to Holy Scripture as a narrative into which God's People are called to live, as expressed in his great works CREATION AND FALL (Genesis 1-3) and PSALMS.
5.) His fundamental conviction that all Christian theology must lead to the practice and embodiment of an ethic that is both personal and communal, as expressed in his great unfinished work ETHICS.
Bonhoeffer's willingness to suffer for such commitments stands as an enduring witness to a Christian faith that can transform the world in which we live today. 
I have often said to the churches I have had the privilege of pastoring, as well as the courses I have been able to teach in seminary, that if the Church could faithfully embrace the kind of Christianity espoused by Bonhoeffer, that we would truly become a church that will "turn the world upside down" in the name of Christ.
Unfortunately, I see a church that is sold out to culture's ideologies of left and right, which often says it is Christ-centered, but often more self-centered. I see a church that is totally unwilling to take Christian discipleship seriously. I see a church that wants to go to church and then forget about being the church as "Christ existing in community". I see a church that says it believes in the authority of Scripture but often demonstrates that it is more interested in personal opinions about the Bible (following what Bonhoeffer says about the Devil in the Garden tempting our first parents with the question "Did God really say?") than submitting to its authority as the Word of God to us today. I see a church that increasing cares less and less about theology and therefore less and less about an embodied, theologically informed Christian ethic, thus emptying the Christian faith of its power to transform individuals and cultures with the Gospel of Jesus Christ.
That is why Dietrich Bonhoeffer remains extremely relevant to us today. Thanks be to God that D. Bonhoeffer is a member of the Great Cloud of Witnesses who urge us to keep our eyes on Jesus Christ, to get rid of all that keeps us from God and one another, and to persevere and not lose heart.